SkyBlueEgg Araucana, exhibited by Ann Charles, won BEST & RESERVE OF BREED at the APA National Show in Bath, New York on September 9, 2017 in BOTH Large Fowl and Bantam Araucana!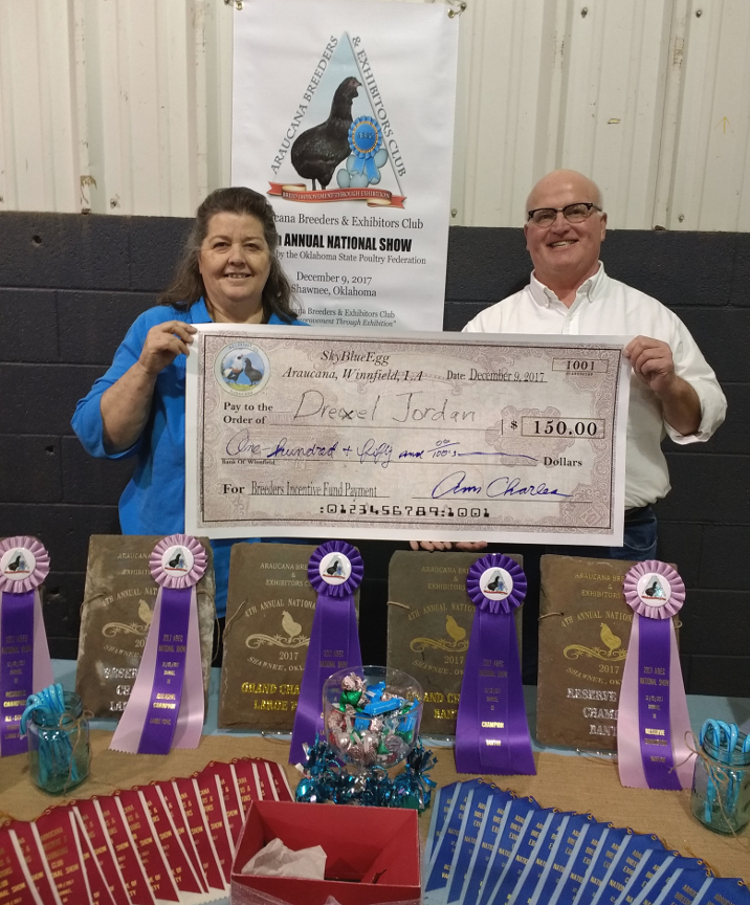 Ann Charles presenting Drexel Jordan with the SkyBlueEgg Araucana Breeders Incentive Fund check at the 2017 ABEC National Show in Shawnee, Oklahoma on December 9th.
The Araucana chicken was originally bred by Dr. Rueben Bustos, a poultry expert in Chile. Through years of selective breeding, and by crossing two types of Chilean 'land-race' fowl, the Collonca and the Quetro, Dr. Bustos developed the first 'Collonca de Artes' . . . the breed that in North America, we now refer to as the Araucana.
The Araucana was approved as a recognized breed by the American Poultry Association in 1977. Dr. Bustos wrote about his birds in 1914, but the worldwide interest in the special traits of the Araucana can be directly attributed to an article which the National Geographic Magazine published in April 1927.
The Ameraucana and the 'easter egger' are tailed chickens that lay blue or green eggs but they are not Araucana. Easter egger is a term used to refer to a chicken of mixed or unknown background, usually sold by hatcheries and feed stores under the name Araucana or Ameraucana to hobbyists who are not aware of the difference. There are a number of important breed type differences between the Araucana and the Ameraucana breeds with the only commonality being that they both have pea combs and lay blue or blue/green eggs. The APA Araucana breed standard calls for a tufted, rumpless, pea combed, 'blue' egg laying bird. All SkyBlueEgg Araucana are bred toward the APA Standard of Perfection.
My Araucana are genetically diverse. My breeding stock and/or hatching eggs have been acquired from most known Araucana breeders over the years. My goal is to raise outstanding show quality Araucana, but I own no perfect birds, and I have never seen a perfect Araucana. I breed primarily large fowl Araucana and the APA Standard of Perfection sets the goals we are all to breed towards. Most of my breeding birds are tufted. Fertility, egg hatchability, and correct color, as well as health, vigor, and breed type in adult birds and chicks are all primary objectives here at SkyBlueEgg . . . Ann Charles
Member: American Poultry Association, American Bantam Association, & Araucana Breeders & Exhibitors Club
Links: Exhibition Poultry Magazine (past issues)
Tufting in The Araucana (first published in 2012 APA Yearbook)
Araucana Breed Type (first published in 2014 APA Yearbook)
All adult birds and chicks are shipped via United States Postal Service Express Mail, UPS and Fed-Ex do not accept live poultry shipments.
All Photos and original text on this website are copyrighted and can not be copied or reproduced with out written consent of the owner. Copyright 2004-2018

BLACK


GOLDEN DUCKWING


WHITE


APA BB Red

SILVER
DUCKWING
2017 Black Bantam Show Results
SkyBlueEgg's Black Breasted Red Araucana 2018 Breeders
(large fowl)
MALES
1) Sangria (BB Red cock) 2016 ABEC National Champion Araucana - Large fowl, Reserve AOSB 2017 Arkansas State Fair, etc.
2) Athos (BB Red cockerel) 2017 - Reserve AOSB in Columbia, Mississippi - yellow card show (see video)
3) Aramis (BB Red cockerel) First shows in Fall of 2018 (see video)
FEMALES
1) Gwen (BB Red hen) First shows in 2018
2) Adelina (BB Red Pullet) Reserve of Breed at the 2017 APA National in Bath, New York - September 9, 2017
3) Gwenith (BB Red Pullet) Best of Variety & Reserve of Breed at 2017 APA District Meet, Fayettville, Arkansas - November 4, 2017.
Yes, all of my BB Red chicks sold in 2018 will be out of the above 6 show birds!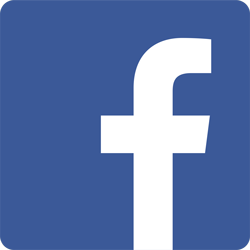 #LA - 892